SERVING CHICAGO, MARKHAM, BRIDGEVIEW, JOLIET AND ALL SUBURBAN DISTRICTS
Criminal Defense Attorney – Daniel Hinich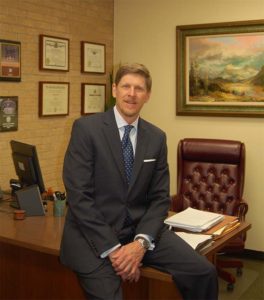 My approach to every case is to prepare as though your case is going to trial. When we prepare for every case this way, I find my clients get the best results.  It allows us to tackle the cases issues head on with no fear. Many people end up pleading because of fear. A plea may be in fact the right thing to do, but you don't want to come into a case looking to plea. If you prepare a case for trial then you get to know the strengths and weaknesses of your case and make the best possible decisions going foreword.
Having over 25 years of experience practicing law has allowed me to develop a personal relationships with my clients that you will not find at a large firm. You get to talk to me and I will make sure you understand everything about your case so that you can be an effective partner in your defense.
What Should I Do If I Am Arrested?
Do not make a statement to the police and immediately request a criminal defense attorney. A lot of times people don't understand what a statement is. A statement or admission does not have to be a formal interview in an interrogation room.  It can be as simple as an offhanded remark by you or an answer to a seemingly innocent question by the authorities. A statement is basically any words that come out of your mouth.  In fact, it can even be a nod of your head yes or no.
Don't tell anything to the police about what may have happened. Let them know what your name is, where you live and what your birth date is. Do not be rude to the police.  Be polite and request an attorney before answering any questions. Remember, anything you say can and will be used against you in a court of law.
I've Been Charged, Now What?
In a criminal case most of the time the decisions you have to make are not pleasant. You feel backed into a corner by the mere nature of the fact that you are in custody and could be facing time. It's an unpleasant circumstance but going in without understanding what is going on and what your options are is a recipe for disaster.
I will be there at your side to represent you through the entire process.  I believe that one of the most important aspects of being an attorney is to make sure the client knows what is going on. This is one of my top priorities. There are so many steps to the criminal process and I will make sure you understand each one. I will be there every step of the way fighting for you rights to give you the the best possible options in your defense. I never force clients into making decisions they don't understand or want. I will be ready to defend you no matter what route your case takes.
Who Will Handle My Case?
I handle all of the cases. I like the hands-on approach.  I try to balance a perfect sized case load so that I can personally prepare each case and do the hearings or trial myself. I'm there for my client in and out of the courtroom and I communicate throughout the whole process. I am there for every important hearing. Where appropriate, I may form a team of attorneys to work on your case but I will be the lead attorney.  Your case is important to you and you can be sure that it is important to me.  I take it personal.
My Approach With Clients In Criminal Defense?
I talk to my client and his or her family. I get the client's point of view. I visit him or her in jail if necessary. I find that my clients can be a great help in working on a case. If necessary, I send out investigators to take statements or collect evidence. I visit the scene where the alleged crime occurred. I have spent countless hours in the neighborhoods going to people's homes, visiting scenes and asking questions.
I do not take a cookie cutter, one-size-fits-all approach. Every case is unique so I look at it as such and I try to see a unique way to get the best for my client, period.
Recent Criminal Case Victories
About Criminal Defense Attorney Dan Hinich
I don't practice criminal law as just a job. I know the impact a criminal case has on you and your family and I want to help get you out of your situation.
I communicate with my clients and I listen to their concerns. I know how to handle every aspect of the criminal law including case investigation, motions, hearings, negotiations and trials to get you the best possible results.
Know Your Attorney
Over 25 Years Practicing Law in the Chicago Metro Area
I Will Fight for Your Rights
I Handle All Aspects of Your Case
Private Law Practice since 1996
Determined and Gutsy Criminal Defense of Every Client
Always Prepared for Your Case
In-Depth Investigation of Every Criminal Case
Skillful and Knowledgeable Attorney with Long Record of Trial Success
Daniel D. Hinich
Criminal Defense Attorney
---
I approach every case from the point of view of "what would happen if we went to trial"? I prepare all of my cases this way to ensure that my clients get the best results. I will fight hard to protect your rights under the Constitution of the United States.
Criminal Law Questions and Answers
If you needed surgery would you try to do it yourself?  Of course not, you would want an experienced surgeon. Likewise, defending yourself in a criminal case is a bad idea.  You are going up against the State with its practically unlimited resources.  The State has experienced attorneys that have been prosecuting all day – every day for years. You don't stand a chance going up against somebody like that?  It doesn't matter how smart you are either because there is no amount of smarts that is going to substitute for the prosecutor's experience.  What you need is somebody with equal experience on your side – somebody to stand up and fight back for you.  Daniel Hinich has been practicing law for over 25 years and will bring all of his experience and expertise to fight the State and give you the best defense possible.
A plea bargain is essentially a deal you make with the State.  In exchange for you giving up your right to a trial the State agrees to a lower sentence.  While in some cases a plea bargain may be a reasonable choice it is not the best option for everyone.  You may in fact be better off going to trial.  Defendant's sometimes jump on the first plea deal especially when they are facing the possibility of a severe sentence.  If the prosecutor gives you a plea deal do not accept any offer until you have consulted with an experienced criminal defense attorney.  Contact Daniel Hinich immediately for a free consultation.
Absolutely!  The State is not there to help.  A guilty plea may have life long consequences. What you need is a defense attorney who will review your case to see whether or not a plea bargain is the best way to go. Daniel Hinich will evaluate and work up your entire case to give you options.  Get in touch with Dan Hinich to get a free consultation with an experienced attorney and do not risk your future or freedom.
I Will Defend Your Rights
I will use all possible legal avenues to defend your rights. When your freedom is at stake don't take chances, hire an experienced trial attorney that produces results.